Every morning I write an email discussing the business and money behind sports. If you would like to receive it directly in your inbox, subscribe now.
Friends,
We've officially made it - the NFL season kicks off tonight with the Houston Texans visiting Kansas City to take on the defending Super Bowl Champion Chiefs.
With COVID-19 impacting sports around the world, the NFL season is going to look a lot different this year.
In week 1, Kansas City and Jacksonville are the only teams that will host fans - with about 33,000 expected to attend. As the season progresses, the hope is that more municipalities will allow teams to have fans attend home games, even if it's in a limited capacity.
The situation is fluid, and plans could change from week to week, but here's a good visual representation of where things stand for this weekend.
On the COVID-19 front, the league-wide protocols seem to be working. Player positive tests have been virtually nonexistent in training camp.
The problem?
Teams have been in the safest environment possible, training camp, where players have strict schedules, little to no downtime, and are consistently monitored. The real test will come as the season kicks off and teams start to travel. I'm optimistic the "mini-bubble" within team facilities will work, but only time will tell.
Given today officially marks the start of the 101st NFL season, I thought we'd do something a little different.
Below are 10 of my favorite NFL photos of all time.
There is no particular order, rhyme or reason - just photos that I genuinely enjoy and hope you do also.
---
"AT&T Stadium aka Jerry's World is my favorite stadium in the NFL. I remember the first time I was on the field and I was in awe of it. For a limited number of games in the fall, the light comes through the windows just right to create epic sun rays. It was fitting that the GOAT New England Patriots quarterback Tom Brady is front and center" - NFL photographer Ric Tapia
(Walter Iooss Jr./Getty Images)
This infamous Walter Iooss photo was in taken in 1969, prior to Super Bowl III, where Joe Namath kept his promise and defeated the Baltimore Colts 16-7.
Fun fact - Brent Musburger is in the black shirt!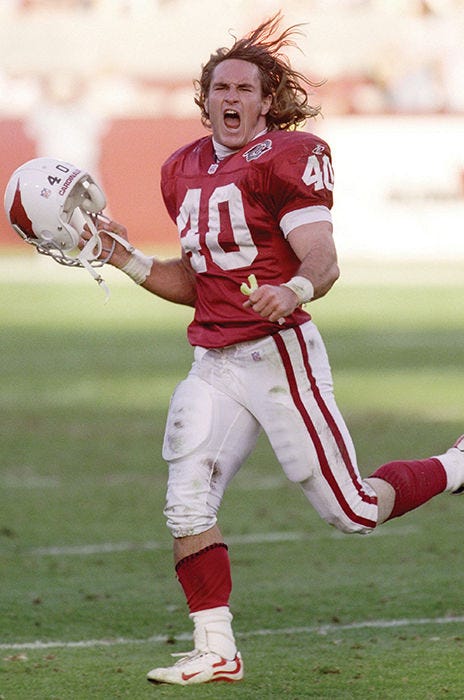 Gene Lower captured this iconic moment of Arizona Cardinals defensive back Pat Tillman celebrating a tackle-for-loss in a 1998 game against the New Orleans Saints.
"Green Bay Packers wide receiver Donald Driver celebrates a touchdown after doing a Lambeau Leap during the second half of an NFL football game against the Jacksonville Jaguars, Sunday, Oct. 28, 2012, in Green Bay, Wis. The Packers won 24-15"
Invented by LeRoy Butler in 1993, the Lambeau Leap has become one of the most unique traditions in NFL history.
(Neil Leifer/Sports Illustrated)
"Don Shula celebrates with his Dolphins, who capped off their undefeated season - still unmatched in NFL history - with a win in Super Bowl VII."
Bill Ray captured the legendary Kansas City Chiefs quarterback Len Dawson smoking at halftime of Super Bowl I.
Could you imagine a player doing this today?
This Bob Levey image captures J.J. Watt, of the Houston Texans, leaving the field during a 2013 game against the Seattle Seahawks after suffering a cut to the bridge of his nose. This photo serves as the perfect reminder of the physical nature of the NFL.
(Michael Zagaris/San Francisco 49ers)
Deion Sanders, of the San Francisco 49ers, was notorious for having a detailed pre-game routine where he would lay out his uniform to visualize how he would look once he took the field. This photo was snapped before one of the most important games of his life, Super Bowl XXIX - a 49-26 win over the San Diego Chargers.
(Damian Strohmeyer/Sports Illustrated)
Voted the #1 play in Super Bowl history, SI's Damian Strohmeyer captured the perfect shot of David Tyree hauling in Eli Manning's desperate heave in the final two minutes of Super Bowl XLII.
Not only did this pass end New England's dream of a perfect season, but it cemented Eli Manning's legacy as one of the most-clutch QB's of all time.
Want to see it again? You can watch it here.
The Super Bowl just has a different feeling to it - Here's a great photo of Denver Broncos Hall of Fame quarterback John Elway celebrating after his Super Bowl XXXIII win against the Atlanta Falcons in 1999.
Ultimately, there are thousands of iconic NFL photos - these are just a few of my favorites.
What's one of yours?
If you enjoyed today's email, subscribe now to receive future emails directly in your inbox.
Extra Credit
Today's extra credit is a useful graphic the NFL Network made displaying the 2020 NFL schedule for all 32 teams - it indicates home vs. away and tells you whether the game is on Sunday, Monday or Thursday.
Current Super Bowl Odds (Source):
Kansas City Chiefs +600

Baltimore Ravens +650

New Orleans Saints +1000

San Francisco 49ers +1000

Tampa Bay Buccaneers +1200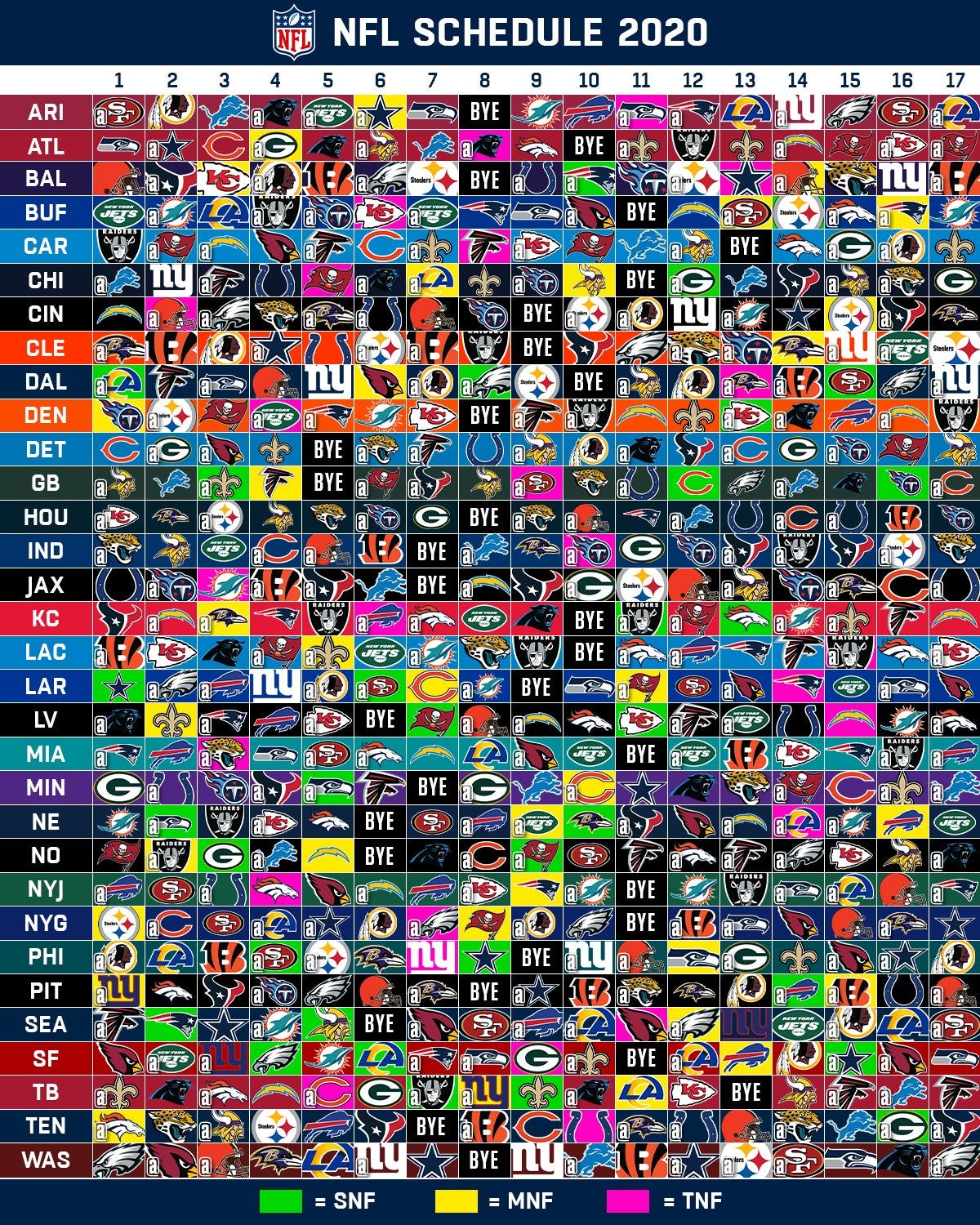 Want To Submit A Topic? 
As we continue to get inbound request regarding specific topics, we'd like to create a streamlined process. Please use the form below to submit potential topics for Huddle Up to write about. If we select your topic, we'll give you a shoutout!